Steve's Home Poker Blog
> Home Poker Tour Nevada Jacks Poker Chips
I finally got my order of the Nevada Jacks contest poker chips.

I skipped the September contest draw because: I'm a greedy bastard, I have a poker chip problem (I can't seem to get enough), and I wanted an official tournament set for my home league.

I got mine customized to say "Home Poker Tour" but remember if you win them you can change the wording to match your league's name.

I got the following denominations for T2500 and T5000 tourneys for up to 8 poker players:

120x25
120x100
60x500

Here they are: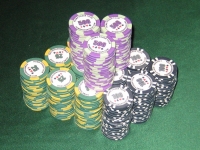 Remember as of Nov. 1 this contest will ONLY be available to members of premium leagues. So think about upgrading!!



Add Comment:

Please Login to add a comment.

New to Home Poker Tour? Register HERE!
Do you want to advertise here for $100/month for a minimum of 3 months? If not, don't bother contacting HPT about advertising. Have a nice day!